A summary of the proposed draft amendment to the Campus Plan can be accessed using the following link: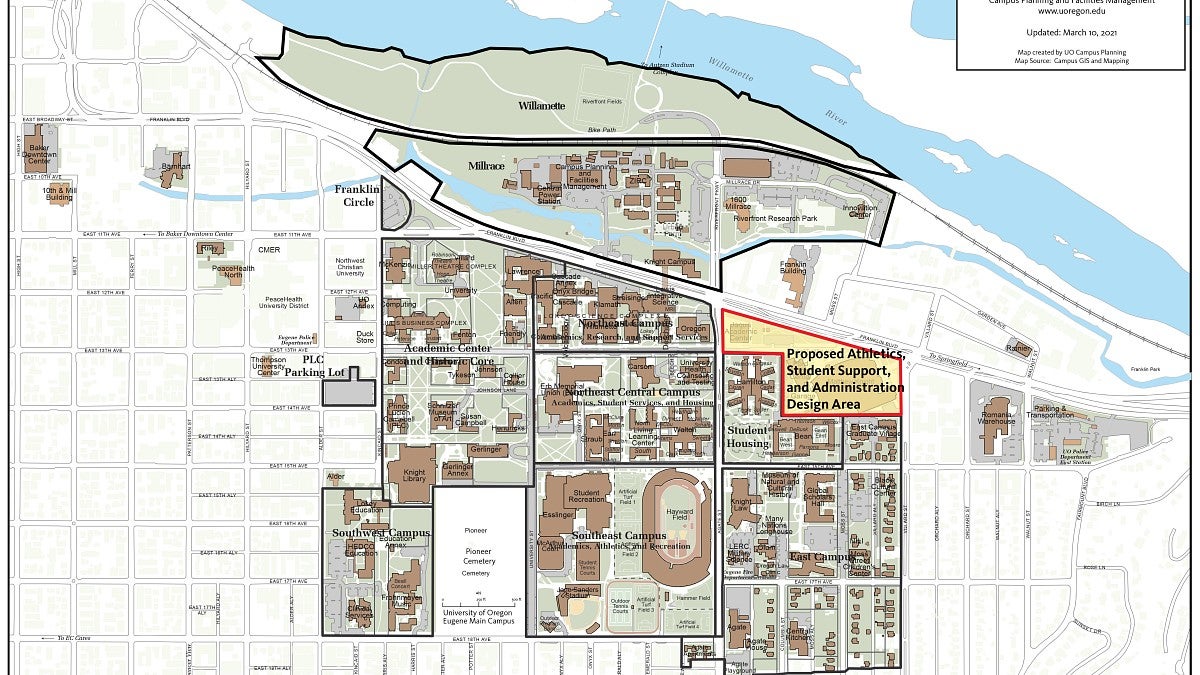 Campus Map 2021 with proposed Athletics, Student Support, and Administration Design Area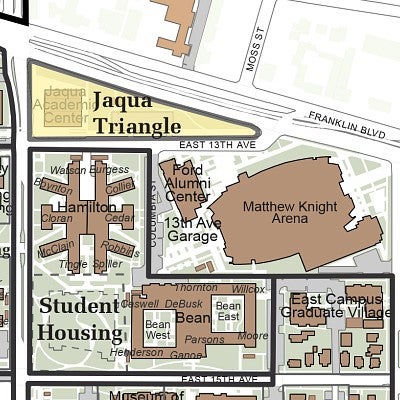 Existing Jaqua Triangle Design Area
Purpose
The purpose of the amendment is to incorporate the university's land southeast of the Jaqua Triangle Design Area into the Campus Plan to guide essential future campus development based on Campus Plan principles. This area was previously not incorporated into the official campus map boundary. The amendment will document the existing development, bringing this area into the Campus Plan, which will help guide any future changes to the area.
Background
The Campus Plan guides all campus development by establishing the principles and patterns to achieve a shared vision. This shared vision ensures physical changes to campus will lead the University of Oregon toward a unified and successful campus design supporting its mission of teaching, discovery, and service. Currently the area southeast of the Jaqua Triangle Design Area, including the Matthew Knight Area and the Ford Alumni Center, is not incorporated into the Campus Plan because it was previously not within the official campus boundary. The land was purchased to accommodate development of the Matthew Knight Arena and the Ford Alumni Center. The campus boundary was amended in 2021 to include university-owned land that had not yet been incorporated into the Plan.
Scope
The Campus Plan is organized by 12 Principles. This amendment will primarily focus on Principle 2 – Open-space Framework, Principle 3 – Densities, and Principle 12 – Design Area Special Conditions. Specifically, the amendments will use the Framework Vision Project as the basis to establish a new design area (that includes the existing Matthew Knight Arena, Jaqua Center, and Ford Alumni Center), establish building density guidelines, and identify development opportunities and constraints.
Status
This Campus Plan amendment process began during Spring Term 2021 with the goal of completing the process by the end of the 2020/2021 academic year.
Process
This Campus Plan amendment is part of the Campus Plan process outlined in the Campus Plan (Principle 1:  Process and Participation, Amendments to the Plan, page 30).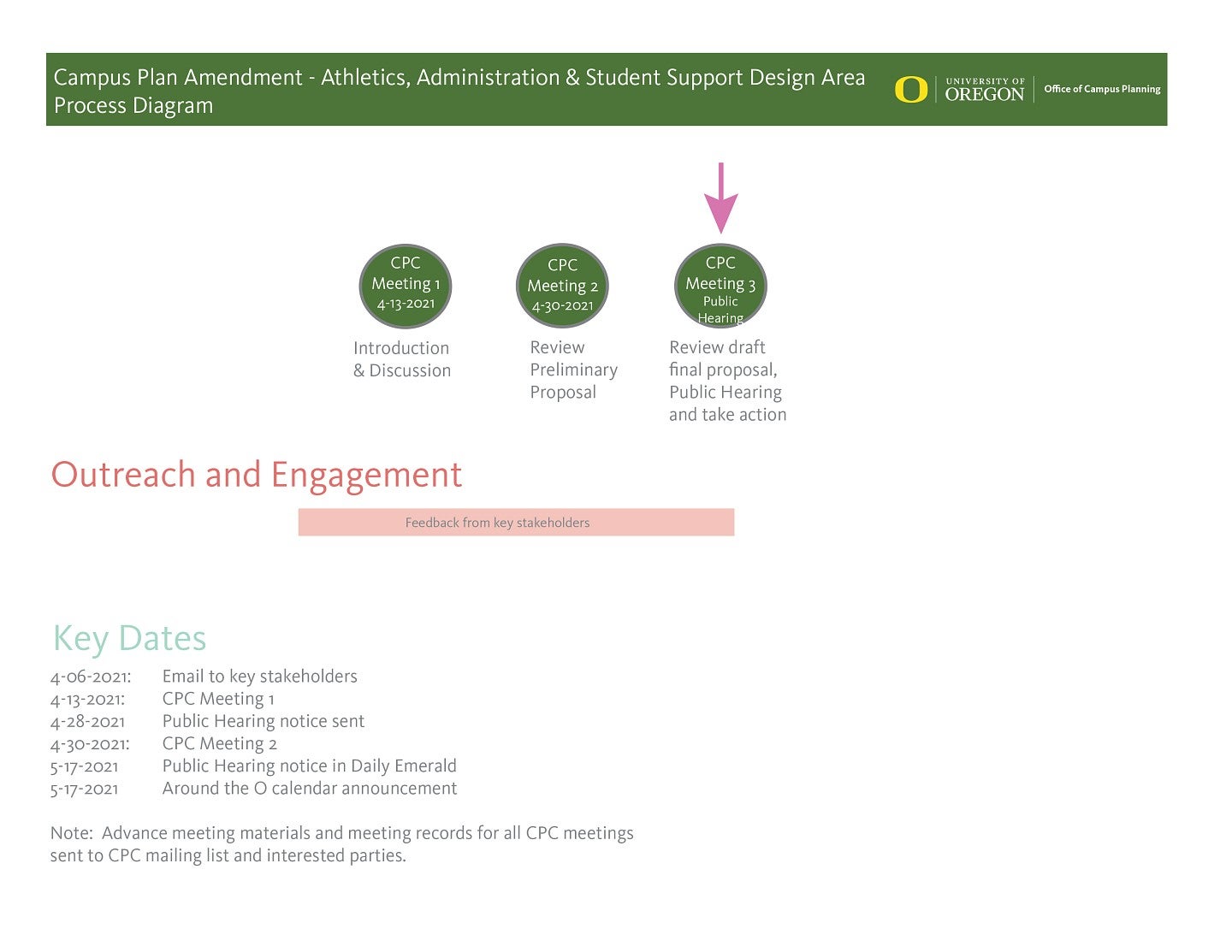 Engagement
The Campus Plan amendment is a Campus Planning Committee (CPC) process led by the Office of Campus Planning. Opportunities for engagement from key stakeholders have been and will be provided throughout the process. CPC members will review the proposed amendment and provide direction and feedback through CPC meetings. The amendment will got to a CPC public hearing and the committee will take action in the form of a recommendation to the President. 
Materials
Campus Planning Committee Meeting 1 – April 13, 2021
Campus Planning Committee Meeting 2 – April 30, 2021
Campus Planning Committee Meeting 3 – May 28, 2021
For more information or to provide feedback, please contact:
Liz Thorstenson, ASLAPlanning Associatelizt@uoregon.edu(541) 346-5024