| Sorting Guidelines | Materials Handling List | Education | Zero Waste Campus Toolkit | UO Zero Waste Campus Construction Standards | Recycling and Beyond: A College Primer | UO Zero Waste Program Materials Tracking | Waste Audits | Listserv | Equipment |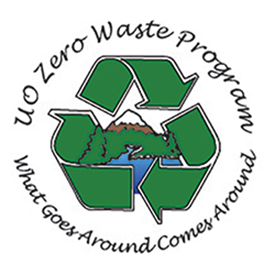 PDF version of each materials guide:
UO Zero Waste Sorting Guide
Quick Guide to Zero Waste at the UO
EMU Dining Waste
Where Does It Go
Yes-No Sorting Guidelines
Zero Waste offers education to all campus users, in particular students, faculty, staff, campus organizations and auxiliary organizations at UO. Educational resources offered by the Zero Waste Program include: workshops, training, sorting guides, tours, promotional tabling, participation at campus events, presentations, volunteering and internships. For more information contact: cimmeron@uoregon.edu or 541-346-1577.
PDF version of each educational guide: