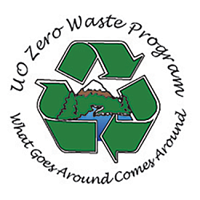 The UO Zero Waste Program provides student jobs as Zero Waste Operations Assistant II (ZWOAII) performing operational services for the program. ZWOA II's do a variety of tasks including: warehouse functions, collection routes, zero waste events, & Housing routes.
Individual students at the University of Oregon are prohibited from working more than 25 hours per week while attending school (although they can work up to 40 hours and beyond over breaks, including summer). the UO Zero Waste Program requires a minimum of 10 and hours per week for student employment.
Students must be enrolled for a minimum of 8 credit hours to be eligible to work in the UO Zero Waste Program. Students from any accredited community or 4 year institution are eligible for employment. Students with work study funding (part of financial aid package) are given preference in hiring. Students with no work study funding are still eligible to apply. Summer employment is offered by program seniority as staff is reduced in the summer. Employment is offered year round.
Students are scheduled for any number of areas throughout the week: processing, van routes, housing routes, outside collection routes, compost crew and maintenance. 
Listed below are the descriptions and requirements for the job or view  File Position Details
Position ID: 42562
Position Title: Zero Waste Operations Assistant 2
Position Description: Position performs all work of Zero Waste Operations Assistant 2 as follows: 
Moving loaded material barrels, bags, boxes and other containers with or without hand trucks. 
Loading and unloading material into and out of program step-vans 
Grading, sorting, cleaning and loading Zero Waste Program materials including: paper, glass, plastic, steel, cardboard, other recyclables, compostables, and re-usables in accordance with established market and program guidelines 
Driving a variety of program vehicles (electric truck, large step vans) in accordance with State of Oregon Rules of the Road, University and Facilities Services driving regulations, and Zero Waste Program guidelines 
Maintaining Zero Waste sites in accordance with program signage and cleanliness guidelines 
Maintaining records of work completed and problems encountered on route slips 
Tracking all material collected by location 
Interacting with the campus community in a professional and helpful manner 
Reporting needed maintenance on vehicles, equipment, service 
Demonstrating knowledge of and adherence to established safety guidelines and policies, including the use of Personal Protective Equipment and safe lifting techniques 
Work weekends and evenings for routes and other events 
Support Program Coordinators and Zero Waste staff with Zero Waste events
Work independently performing regular operational duties including the servicing of satellite areas: 

Outside PDO's (public drop-offs)  
Lawrence Hall 
Zero Waste events  
Bike Route 
Walking Routes 

Assist Coordinators in operational logistics for Zero Waste events, educational and promotional activities, and other non-daily special projects such as Move-Outs 
Work Zero Waste Program events as availability allows, including independent work doing set-up, operations, education, tracking, clean-up, vehicle operation, and reporting 
Working Conditions: Zero Waste Operations Assistant 2: works both indoors and outdoors with no direct supervision in program operations or on satellite routes. Zero Waste Operations Assistant 2 works both indoors and outdoors in weather that may be inclement or extreme, and may work in an industrial setting where temperatures, lighting, noise levels, and air quality may vary. The position requires the ability to lift up to 25 pounds, push, pull, bend, stoop, climb stairs and use hand trucks. 
Availability Requirements: 
Must be available for 3-hour blocks of time between 8:00 a.m. and 5:30 p.m. Monday through Friday
Commit to a regular weekly schedule for the duration of each 10-week academic term including finals week, Move-outs and Move-ins
Weekend and evening work as available
Work at large events and educational events upon request
Qualifications: Driver's license, ability to perform all operational duties (including lifting, collection, processing, driving vehicles), good work ethic, ability to meet work schedule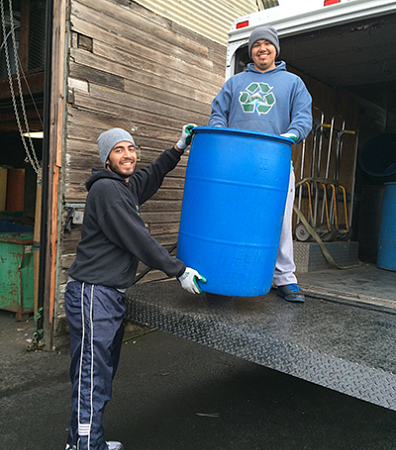 If you are here, you have shown interest in working with the UO Zero Waste Program.  To see if the Zero Waste Program is hiring student employees, please search for "Zero Waste Operations Assistant II" job posting on Handshake.