University of Oregon Climate Action Plan History
Second Nature, a non-profit based in Boston, with support from the Association for the Advancement of Sustainability in Higher Education (AASHE), launched the American College and University President's Climate Commitment (ACUPCC) in Fall 2006. The ACUPCC required all signatories to take at least two immediate actions to reduce emissions, for example, "develop commuter programs" or "increase recycling." It also required institutions to complete emissions inventories and draft climate action plans.  Former University of Oregon president Dave Frohnmayer signed the ACUPCC in 2007. By 2014, 684 institutions had joined the ACUPCC.
The University of Oregon's Office of Sustainability was established in Fall 2007, in part to manage the UO's obligations under the ACUPCC. In 2010, the office's director submitted a Climate Action Plan which was signed by then-President Richard Lariviere. The University of Oregon's 2010 CAP included an emissions inventory and a goal to eliminate institutional emissions by 2050, but lacked a detailed plan to achieve it. Nonetheless, significant progress was made. Since 2010, the UO has:
Completed greenhouse gas emissions inventories on a 2-3 year cycle;  
Educated the campus community about institutional emissions, the activities they derive from, and responsibility to manage and reduce them;
Created the Oregon Model for Sustainable Development (OMSD), which held energy and emissions from campus buildings at 2011 levels while adding significant new building space to campus (more details on the OMSD page);
Established a fund to finance energy efficiency projects.
The original UO Climate Action Plan is available here.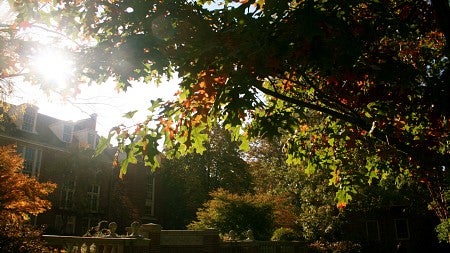 In Fall 2016, a group of undergraduate students advocated for an update to the Climate Action Plan. Specifically, they wanted more detailed and realistic emissions-reduction goals and projects. In January 2017, student activists from the Climate Justice League met with University of Oregon President Michael Schill to discuss a review and update of the current CAP. Key issues with the current CAP were identified, including the absence of short-term, achievable goals and the need to establish a baseline year for which the UO has adequate data.
The president tasked the Office of Sustainability to gather feedback from students, staff, and faculty and deliver recommendations for an updated climate action plan. The draft recommendations, completed in Fall 2018, were organized into four categories:
During the review period, Second Nature announced it was no longer supporting the ACUPCC. Institutions could opt to transition to a new program, similar in scope but with mandatory annual dues, called the "Carbon Commitment." The UO's draft CAP recommendations – which included a recommendation to proceed without joining the Carbon Commitment – were shared with President Schill in Fall Term of 2018. The president requested that the Office of Sustainability helm additional outreach to campus stakeholders before finalizing the CAP. 
Students responded in January 2019 with a letter signed by more than 300 faculty, staff, and students. It urged the president to commit to more aggressive emissions reductions in line with the Intergovernmental Panel on Climate Change (IPCC) recommendations. After consulting with staff, the president authorized several additional commitments. A statement released by the president's office on May 10, 2019 summarizes these additions and officially accepts the updated Climate Action Plan.
Climate Action Plan Context
The University of Oregon's updated Climate Action Plan is part of a growing number of voluntary efforts to reduce emissions across the world, from colleges and universities to governmental and private sector commitments at local, regional, state, national, and international levels. The university recognizes that as a public institution of research and education, its leadership and example are an important contribution to a global effort that reaches across all sectors of society to reduce greenhouse gas emissions, transition away from fossil fuels, and plan for resiliency as we face effects from climate change. Related greenhouse gas emissions reduction initiatives in our region include:
It is important to note that the patchwork of voluntary emissions reduction plans have been developed and managed without the benefit of a regulatory framework. While they attempt to respond to the science and best practice suggestions issued by the IPCC, meaningful global emissions reductions will require policy change at the state and federal levels.