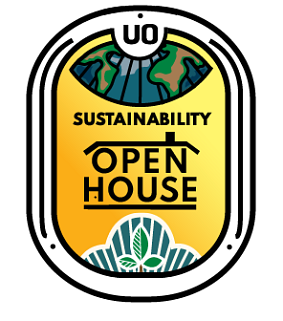 Sustainability Open Houses bring together staff, faculty, and students to share their work furthering sustainability at University of Oregon. These quarterly meetings foster collaboration between faculty and staff, build community, and support campus as a living lab. 
---
Seeding Campus, Growing Sustainability
Faculty and students have amazing research and learning opportunities embedded right here, within the operations and maintenance of the mini-city that is the University of Oregon. Staff in all areas of the institution have a role to play in student success. But these two groups often have trouble finding each other and growing the kinds of mutually-beneficial collaborations that use the campus itself as a vibrant learning laboratory. Sustainability Open Houses bring together stakeholders from across campus to share work and spark ideas that lead to collaborations and cross-pollinations between academics and operations, learning and working.
Questions? Want to be added to the mailing list? Want to present at an upcoming open house? Contact Sarah Stoeckl, Assistant Director, Office of Sustainability at sstoeckl@uoregon.edu or 541-346-3489
Open House Speakers
Sustainability Open House
When: Friday May 19 10:00am-11:30am
Where: EMU 104 - Coquille Room
​​​​​​Each micro-presentation will also include a short period for questions from the audience. After the presentations, attendees will have the chance to chat with the speakers and other attendees. Masks are welcome but not required.
Light refreshments provided!
Spring 2023 Speakers
Steve Mital, Office of Sustainability and Thermal Transition Team
Kory Russel, Landscape Architecture and Environmental Studies
Bird Society, student group
Barbara Muraca, Philosophy and Environmental Studies
Alethea Steingisser and Joanna Merson, InfoGraphics Lab and PNW Just Futures Institute - The Atlas of Essential Work
Winter 2023 Speakers
Abigail Gravatt, Student Sustainability Center Spring Conference
Rosalee Clanton and Jane Brubaker, UO Grounds team, Sustainability upgrades to UO landscaping
Danny Pimentel, School of Journalism and Communications, Virtual reality and climate change
Grey Pierce, Digital Accessibility Architect, Equity and access in virtual options for sustainability
Lillian Moses, University Housing, LEED design of UO residence halls
David Reesor and Josh Kashinksky, Transportation Services, E-bike share program
Yesenia Hunter, Indigenous, Race, and Ethnic Studies, post-doctoral research
Fall 2022 Speakers
Adell Amos, Environment Initiative
Katie Staton, UO Longhouse
Jessie Gardner, PIELC
Max Arquilevich, Citizen's Climate Lobby intern
Leigh Johnson and Troy Brundidge, wildfires and incarcerated laborers research
Ella Meloy and Graham Yotsuya, Sustainability Leadership and Engagement Program 
Elly Vandegrift, Global Works International Internship
Spring 2022 Speakers
Cimmeron Gillespie, Campus Waste Audits with Office of Sustainability
Hollie Smith, SOJC Faculty and Researcher, Science journalism and environmental communications
Patrick McMurdo, GEO Study Abroad and Sustainability
Ashia Ajani, PhD student in English
Michael Geffel, Professor of Practice, School of Architecture and Environment
Winter 2022 Speakers
Paul Kempler, Associate Director - Oregon Center for Electrochemistry
Tim Winder, Custodial Services Manager
Taylor McHolm, Riley O'Connell, and Libby Mackin, Student Sustainability Center
Lauren Hallett, Biology and Environmental Studies
Abigail Leeder, Intertwined
Fall 2021 Speakers
Aris Hall, Lyllye Reynolds-Parker Black Cultural Center
Sarah Wald, English and Environmental Studies
Courtney Kaltenbach and Bryce Crumpston, Climate Justice League
Julie Voelker-Morris, Common Reading
Tom Driscoll, Dining Services
Spring 2021 Speakers
John Arroyo, PNW Just Future Institute
Mark Carey, researcher and ENVS department chair
Sarah Stoeckl, Sustainability Fellows Program
Jane Brubaker, Native plants and pollinators on campus
Matthew Katz, Outdoor Program's "Redefining Outdoorsy" program
Winter 2021 Speakers
Mike Russo and Ryan Cabinte, Sustainable Business Minor
Steve Mital and Cimmeron Gillespie, Sustainability Data Dashboard
Emily Eliza Scott, current research, History of Art and Environmental Studies
Grace Honeywell, Global Leadership Challenge
Ceili Cornelius, Envision magazine
Fall 2020 Speakers
Megan Sweeney and the 2021 planning team, Public Interest Environmental Law Conference (PIELC)
Debbie Sharp, VPFA Admin Internship Program
Abigail Gravatt and Payton Lagomarsino, Redefining Menstruation Student Team
Robyn Hathcock and Steve Mital, UO's Sustainability Tracking, Assessment, and Rating System (STARS) Score and our "Path the Platinum"
Dakota MacColl, The Duck Nest's Climate Council for students
Spring 2020 Speakers
Taylor McHolm, Student Sustainability Center
Autumn Ellison, Year of Water project
Cheyenne Holliday and Katie Moreland, Oregon Water Futures project
Aaron Olsen, Campus Planning
Steve Mital, Office of Sustainability
Brendan Adamczyk, Climate Justice League
Sarah Stapleton, Faculty in the College of Education
Winter 2020 Speakers
Greg Shabram and Grant Baldwin, Purchasing and Contracting Services
David Reesor, Transporation Services
Alexandra Rempel, Faculty in Architecture and Environmental Studies
Donny Addison, Waste Management and the Zero Waste Program
Darin Dehle, Design and Construction
Megan Banks, Sustainable Cities Year Program