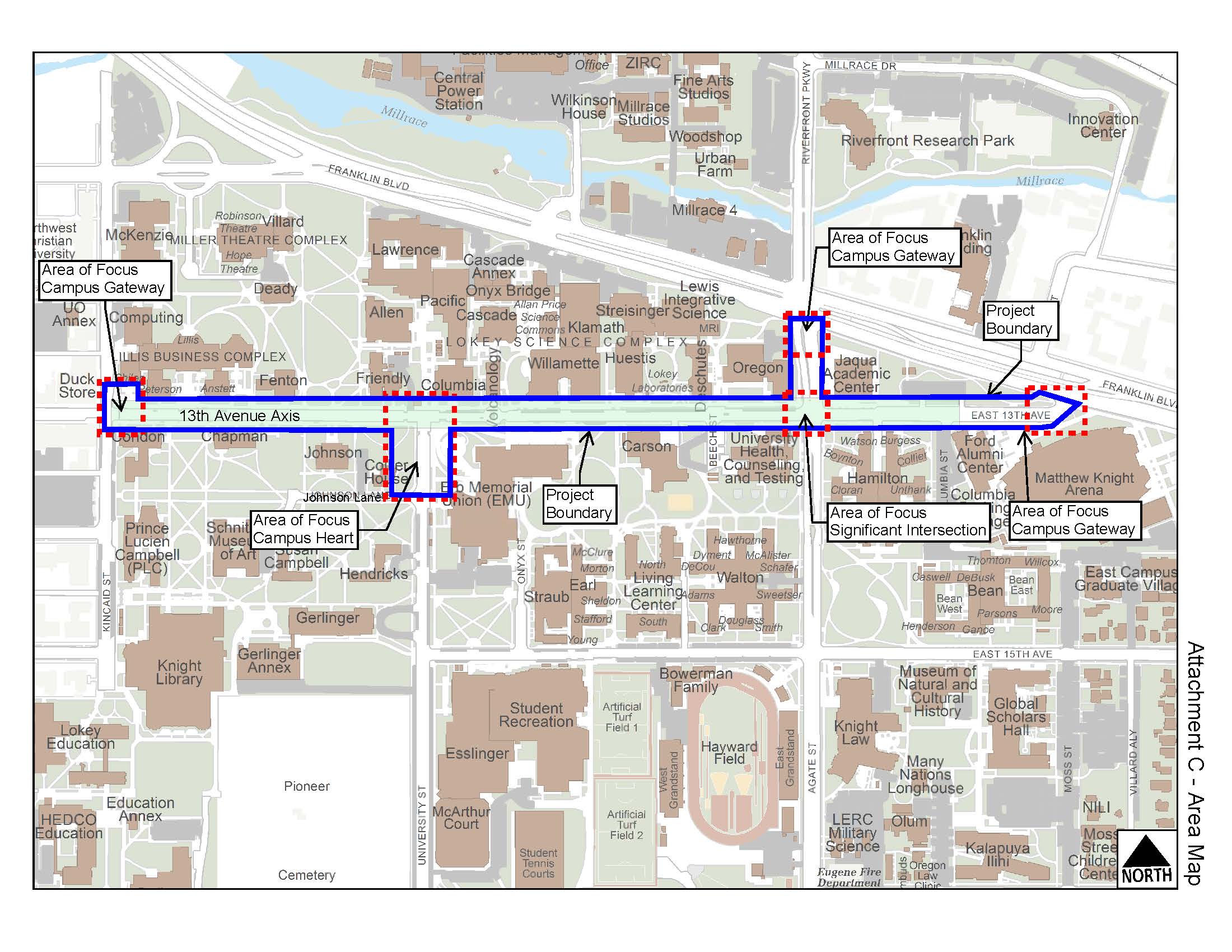 attachment_c_-_map.pdf
Status
The project is being led by Walker Macy Landscape Architects along with their team of Gehl Studio, Toole Design Group, KPFF, and Capital Projects Group. 
Purpose
Create a visionary Conceptual Design for the 13th Avenue Axis to be a model of excellence in campus open-space design, reflect the Campus Plan principles and university values, and be a memorable part of the campus experience.
Project Description
The Project will create a visionary conceptual design for 13th Avenue through the University of Oregon to be a model of excellence in campus open-space design, reflect the Campus Plan principles and university's values, and contribute as a memorable part of the campus experience.  The Owner intends to retain the services of a leader in campus open-space design to lead the Project.
13th Avenue is a major axis within the University of Oregon campus open-space framework and is the primary east-west corridor for pedestrians and bicyclists through campus. However, the visual character, circulation patterns, and levels of safety vary throughout the axis.  Visually, the axis looks and feels like a typical street designed for automobiles, even where portions have restricted vehicles access.  
Currently, the western portion of 13th Avenue (Kincaid Street to University Street) gives pedestrians and bicycles priority, restricting vehicle access to service and emergency vehicles. However, the extremely high volume of pedestrians and bicycles, along with service vehicles and crowded transition areas, can make the experience feel chaotic and unsafe.  The eastern portion of 13th Avenue (University Street to Agate Street) attempts to limit personal vehicle access, but not successfully.  Drivers dropping off passengers or looking for parking continue to circulate amongst the high volumes of pedestrians and bicyclists.  The eastern-most segment of 13th Avenue (Agate Street to Franklin Boulevard) is a city street. 
The Campus Plan and past studies have identified opportunities for enhancement of 13th Avenue to improve visual character, gateways, circulation, and universal access.  However, without a holistic conceptual design that recommends specific improvements it is not possible to understand how to move forward with implementation.
The Project will provide the basis for future design and implementation phases.  Following the conceptual design Project the Owner may elect to continue with schematic design for all or parts of the Project with the hired consultant as a separate contract.
Goals
Redefine the visual character and experience throughout 13th Avenue to create a unique and unified axis reflective of the university values and history with consideration for the following:

Prioritize pedestrian and bicycle safety and circulation while providing for emergency and service access needs as well as special event uses.

Address broad and complex site considerations that include multiple building entries, bike and pedestrian corridors, limited vehicle access, gateways, etc.
Eliminate the visual and functional impact of the original use as a vehicular thoroughfare.
Preserve existing mature trees and landscapes.
Promote universal access throughout the corridor.
Implement applicable principles and recommendations of the Campus Plan, Framework Vision Project (FVP), and past studies into site specific designs. 
Develop a conceptual design that can be implemented in phases as stand-alone projects.
Engage the campus community to identify needs, opportunities, and refine Project goals. 
Implement strategies for stormwater treatment and sustainable design.
Accommodate the full range of uses throughout the Project area including special events like the ASUO Street Fair.
Enhance campus gateways, the Heart of Campus (13th Avenue and University Street), and significant intersections to improve safety, wayfinding, and circulation.
Tie into the broader site context (beyond the Project boundary).
Timeline
It is anticipated to have the design consultant under contract around August of 2018.  The conceptual design project is expected to last 8 months.
Materials 
CPC Mailing (Link for the CPC Mailer on Feb. 13th)
Public Space/Public Life Survey
The University of Oregon is embarking on a conceptual design project for 13th Avenue to redefine the role of this important open space on the UO campus.  How do people use this street today?  How will people use it in the future?  Help make 13th Avenue a memorable part of the UO campus by signing up to be part of the 13th Avenue Public Life Survey October 18 and 20. 
As part of the 13th Avenue Conceptual Design project, Gehl Studio is conducting a Public Space / Public Life survey of 13th Avenue.  Gehl Studio, based in Copenhagen, Denmark, is a globally recognized leader in people-first, human-scale design.  Survey volunteers will work together outdoors in 4-hour shifts to measure public life in and around 13th Avenue on campus. More than just pedestrian counts, volunteers will be trained to observe and capture the nuances of how people use and move about public space. Your findings will be used to inform a new design for this street and to benchmark how it contributes to campus life. This is a great way to learn about Gehl's approach to urban planning and design and play an active role in future changes to UO's public realm.
When:  Shifts will take place on October 18 (Thursday) and 20 (Saturday).  Shifts will occur from 8am – 8pm.  An additional shift from 8pm – midnight is available if volunteers are interested!  Refreshments and snacks will be available.  All volunteers will receive a $5 Duck Store gift card for each shift they work! 
Training:  Survey training will be held October 17 from 5:30 – 7:30 in the EMU Gumwood Room.  Pizza and refreshments will be available to volunteers!  Please RSVP to Aaron Olsen at aaolsen@uoregon.edu
Sign Up:   Contact Aaron Olsen to RSVP.  Sign up by October 15.
How can I be involved?
If you would like more information or have any questions or concerns, please contact Campus Planning directly (Aaron Olsen, aaolsen@uoregon.edu, (541) 346-5564).

For more information, please contact:
Aaron Olsen, ASLA
Landscape Planning Associate
Phone: (541) 346-5564