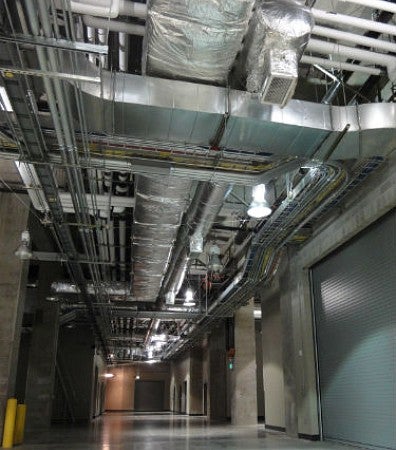 The Engineering & Utilities Management Group provides oversight for the planning, design, and construction of MEPU (mechanical, electrical, plumbing, utilities) related project items and processes, QA/QC inspection, commissioning, engineering support and energy analysis of buildings and utility systems. Staff supports research, development, analysis, and implementation of strategies that improve the efficient delivery and use of energy resources on campus.
Staff develops and incorporates strategies for energy conservation and efficient systems into Capital Construction projects. The group manages projects from inception through the post-construction energy assessment period. This includes the management of the Oregon Model for Sustainable Development (OMSD) contained within the Campus Plan, in collaboration with University stakeholders. Additionally, staff develops funding options that will encourage inclusion of these strategies within the scope of the projects. Conservation strategies are tracked and documented to ensure designed energy goals are met, and to qualify for rebates such as those through the Eugene Water and Electric Board (EWEB) and Energy Trust of Oregon.
Staff uses utility data to monitor the performance of energy systems within campus buildings and to look for opportunities to correct inefficiencies. Through tracking of campus energy usage the group ensures the success of completed projects.  In addition to project tracking, the data is used in conjunction with the campus framework vision plan to develop the campus utility master plan, ensuring adequate capacity and distribution of services for future needs.
The E&U Management Group also provides commissioning services for projects, utilizing a consultant pool or internal expertise.  New engineering services will provide support for capital projects and Campus Operations departments, and work in conjunction with QA/QC inspections to ensure projects are delivered as designed.
---
For more information, please contact :