| Zero Waste Event Services | What is Recyclable and Compostable? | Where to Recycle and Compost? | Reusable Office Supply Exchange ROSE | Surplus Property | Listserv | Housing |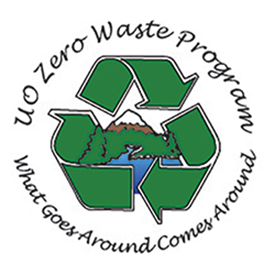 Or Call 541-346-2319
The UO Zero Waste Program offers waste reduction/recycling/food scraps services to campus events and meetings for an additional charge. conferences and other campus gatherings. To order these services, contact Campus Planning and Facilities Management Work Control at (541) 346-2319.
Do Not Forget To Get Your Portable Water Refill Stations!
How it works:
Call 541-346-2319
Only two units available
A hose is attached inside each unit and water is supplied from water hook-ups located throughout campus
Set-up and take down include, call for more information
Any damage to units incurred at event will be the responsibility of the event
Set-up costs for all events are labor intensive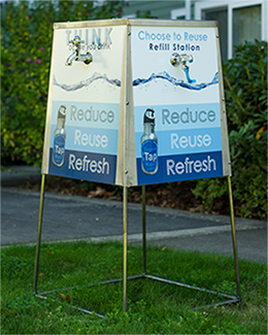 Thanks to the University of Oregon faculty, staff, students and administration we are a nationally recognized leader in college campus recycling. This is made possible by having accessible recycling and/or compost stations located throughout the University as well as the transportation and processing of materials. For what specific recycling/composting options are located view Where Can I Recycle and Compost

ROSE has been in effect at the UO since 1992. This self-service program that allows all faculty, staff, administrators, GE's and student to bring extra office supplies along with donating for others to use. It can be found at 182 PLC and the access key is with the English department in PLC 118, the regular office hours are 8:00 a.m.–11:45 a.m., 1:00 p.m.–4:15 p.m., Monday-Friday.
For more information see the Rose Brochure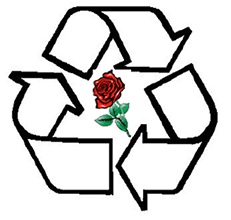 CPFM supports a program run by BAO to provide surplus office furnishings to campus departments operated by Central Support. Surplus is located at 2020 Franklin Blvd (South side building entrance), for contact information call CPFM Central Support Supervisor at 541-346-2014
UO Property Handling: For any UO property needing disposal, whether broken or not, including electronics and any items bought with UO funds, fill out a Property Disposition form. Property Control can be reached at 541-346-1250. For a Property Disposition Request Form.
If you are a campus department or ASUO student group seeking used office furniture, surplus is available for campus use: visit the warehouse Monday through Friday, between 12:30 and 1:00 pm or visit Surplus Property. The warehouse is located on the west side of the building, off of Orchard Street. Parking is available. Items from Surplus Furniture are free of charge, however, there is a delivery charge.
The University of Oregon Zero Waste Program provides zero waste services to all campus including University Housing. As students living in Housing comprise over 25% of the student population, implementing waste reduction and recovery opportunities in Housing has a significant impact on campus as students utilize these practices campus wide while inspiring other students throughout college. The Zero Waste Program efforts are threaded throughout Housing and are implemented in the Residence Hall kitchens, in each Residence Hall room, in Off-campus Housing and in Graduate student and family housing. As Housing operates as a small city, residents are engaged at every step of the process from moving in to moving out at the end of the year.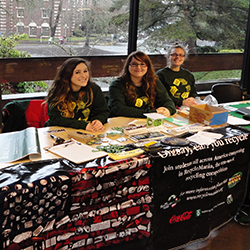 Housing Guide