Replacing your gasoline or diesel vehicle with an electric vehicle is one action you can take to reduce your household carbon emissions. Studies show that electric vehicles are less expensive to own and operate than conventional automobiles. Still, electric vehicles aren't for everyone. The University of Oregon's Office of Sustainability presents the pros/cons and costs of ownership at free public workshops to help people make informed decisions.
We teamed up with the City of Eugene and EWEB to help bring the benefits of cleaner, cheaper transportation to more households. Between April 18th and June 15th, 2018, those who attend a free workshop received exclusive discounts on electric vehicles from EWEB and local auto dealers. Discounts also applied to lease options. Only workshop participants are eligible for the local dealer rEV Up Eugene! discounts. Only EWEB customers who attend a workshop are eligible for the extra rebate, although the EWEB Drive Clean rebate is available to all EWEB customers.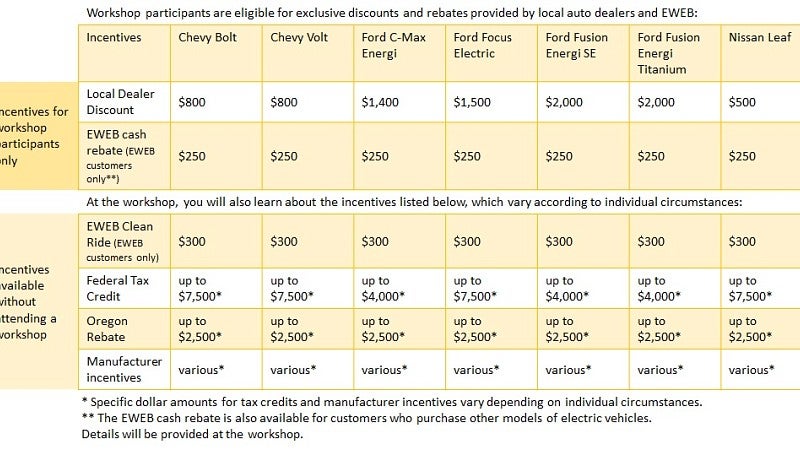 The above local dealer discounts are provided exclusively for workshop participants by Guaranty Chevrolet, Kendall Ford, and Lithia Nissan.

The workshops cover everything you need to know about owning an electric vehicle. Information about workshops in 2018 and 2019 coming soon.
Workshop Topics: 
EV 101
EV fueling costs compared to gas powered vehicles
Carbon emissions
Battery-range and life expectancy 
Charging options at home
Charging options around town 
Cost to insure an electric vehicle
Maintenance issues
Federal, state, and local incentives
Dealer and manufacturer incentives
Questions about the workshops? Contact Steve Mital, Director of the University of Oregon Office of Sustainability:
smital@uoregon.edu or 541-346-0709