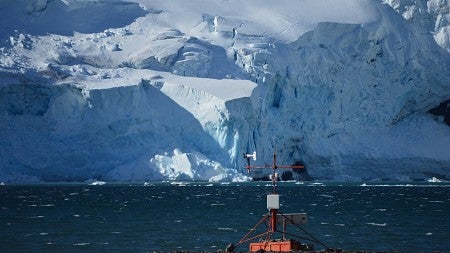 The University of Oregon community is justifiably proud of our research and teaching around climate change—its impacts, how we understand and plan for it, and possible mitigation and reversal strategies. While not strictly part of our Climate Action Plan (CAP), our institution's research represents a vital and significant contribution to human understanding of climate change and our teaching prepares students to respond intellectually and professionally to its many challenges. In response to input from UO students, President Michael Schill committed to increasing support for climate change education and research.
Research into human-caused climate change and what people should do about it touches almost every area of the university, including our professional schools such as the Schools of Law, Education, Business, Design, and Journalism and Communications. Researchers in the social, natural, and physical sciences study everything from how climate change increases wildfires, affects indigenous and rural communities, and changes the ecology of grasslands to how to make chemistry more sustainable throughout a product's life-cycle. Researchers in the arts and humanities represent climate change in human or aesthetic terms and help people make sense of its consequences and what we must do to respond.
Most of our researchers are also educators, and UO students benefit from the combination of cutting edge climate change research coupled with innovative teaching from established experts. These classroom experiences set students up for careers in a rapidly-changing world and prepare them to be mentally-rigorous and intellectually-curious citizens in the complicated future that lies ahead.
---
Here is a brief snapshot of just some of the faculty contributing to research and teaching related to climate change
---