The third cohort of University of Oregon Sustainability fellows wrapped up their fellowship with all teaching going remote in response to the COVID-19 pandemic. Several fellows had their plans for community-engaged learning around sustainability disrupted and the Office of Sustainability offered them an additional year to implement their plans and claim their second stipend for program participation. Several fellows took this option. 
However, several fellows were able to move forward with their teaching and learning plans:
Eric Boggs, faculty in the Lundquist College of Business, collaborated with Food for Lane County to create projects for students in his Leadership and Communication course, enabling them to work on solving real-world problems.
José Meléndez, faculty in Planning, Public Policy, and Management, partnered with new non-profits for his Winter 2020 Community Organizing course to give students options to focus on sustainability issues.
Devin Grammon, Spanish faculty in Romance Languages, worked with Community and Access Planners in the City of Eugene to design a project for a new course for Spanish majors and graduate students. The course addressed the core topics of ethnolinguistic vitality, social equity and inclusion as they relate to the use of Spanish and other minoritized languages on public signage and in public spaces. Students gatherered data on uses on languages other than English in public spaces around Eugene and presented their findings to City of Eugene partners.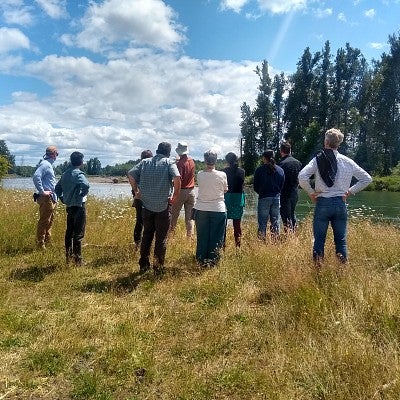 Emily Scott, faculty in History of Art and Architecture and Environmental Studies, developed the course Unnatural Disasters and partnered with local non-profit Beyond Toxics to teach students about environmental injustice in the local community.
The Sustainability Office is planning changes to next year's iteration of the program that account for COVID-19 restrictions and the increased urgency to address and solve racial injustice. Details will be shared on the program's webpage.
"The sustainability fellows program was fantastic! I am so happy that I was a part of it. I learned a lot having participated in the program, especially about sustainability and current efforts in the local community related to this topic. I felt like participating in the program did a lot for my professional development as a faculty member at UO while also giving me a kind of orientation to Eugene."
- Prof. Devin Grammon