This year the UO Office of Sustainability created a new student employment position for outreach and education to our campus community. The Sustainability Ambassadors took on varied projects each quarter to deepen sustainability on campus.
Fall quarter kicked off with the supporting a new reusable dining ware program in campus dining facilities during move-in and the first week of classes. During fall they also supported various events, including a community-focused Plastics Round-Up, receiving plastics not recyclable through municipal haulers for recycling. Their biggest fall project consisted of conducting waste audits in a few campus buildings. These audits did the literal dirty work of examining a specific buildings' waste to determine what it includes (and how the materials vary from building to building), the amount of recyclable items thrown into the standard trash, and the level of contamination in the recyclable streams. The Sustainability office will use this information to improve our waste collection, communications, and education, in collaboration with building managers and our waste services department.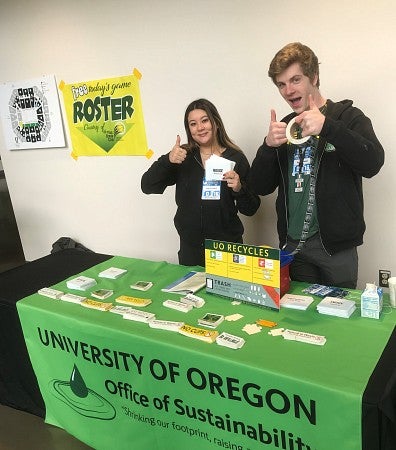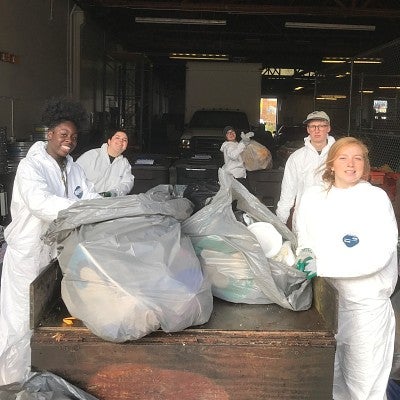 Winter quarter's most exciting project was the Shut the Sash campaign. This initiative aimed to increase energy efficiency in science labs as the ambassadors educated researchers on why they should close their fume hoods—a small ventilation device that limits exposure to harmful chemicals and other fumes—before leaving the lab for the day, weekend, or school break. With only a few weeks of outreach and engagement, the project resulted in significant and measurable amounts of energy saved.  
Of the experience, ambassador Brooks Bocko said that he enjoyed "interacting with a diverse group of people... such as faculty for the fume hood project," and Briana Herloss reported feeling proud of the impactful work: "I informed lab managers and they purposely reduced [energy use] and I was part of that." 
Spring quarter plans were thwarted when the COVID-19 pandemic forced campus to close for the quarter. However, we are excited to continue this program next year, expanding our current projects and adding in new opportunities for the UO Sustainability Ambassadors.