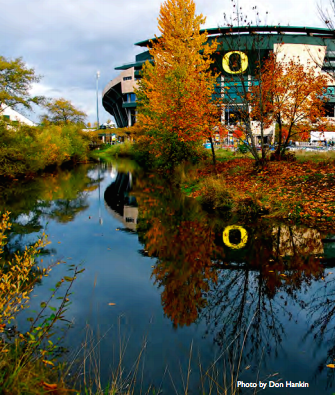 In partnership with UO Athletics, the Office of Sustainability completed the nation's first greenhouse gas inventory and sustainability report for a Division 1 athletics department.
After collecting and analyzing waste management, utilities, purchasing, and transportation data, a number of recommendations were made to the athletics department sustainability committee to improve its performance.
Athletics has since transitioned to more sustainable purchasing policies, enhanced game-day recycling programs and joined the Green Sports Alliance. The department's actions have even earned it a feature case study article in the Natural Resources Defense Council's 2013 publication Collegiate Game Changers: How Campus Sport is Going Green.