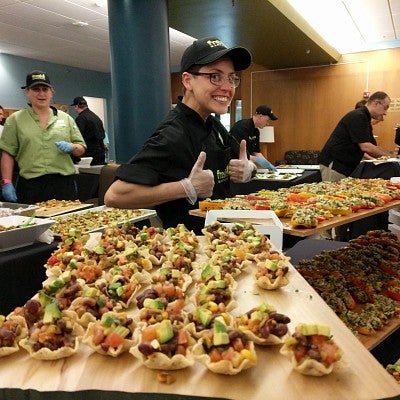 University of Oregon kicked off Earth Week 2019 with a "low carbon footprint" dinner. Held at Carson Dining Hall, the event featured "bites" prepared by university chefs showcasing how food that's better for the planet can also be delicious. Attendees voted on the bites, which included jackfruit "carnitas" tostada bites, cowboy caviar tortilla cups, and mini sweet peppers stuffed with quinoa, veggies, and herbs, among others.
This initiative was a collaboration between University Dining and the Office of Sustainability. The idea came from recent research indicating the carbon footprint of various food categories. Lamb and beef have the highest footprint while vegetables, milk, and legumes have the lowest. Chicken, eggs, and tuna showed up in the relative middle but still have a dramatically lower carbon footprint than other animal-based proteins. Perhaps most surprising was the high carbon footprint of cheese specifically, coming in at 13.5 kilograms of carbon per kilogram consumed, just after beef.
Project Drawdown, which uses research and future projections to determine the most effective solutions to reverse global warming, lists a "plant-rich diet" as the fourth most effective approach to solving climate change. Combined with #3, "reduced food waste," this is the most effective thing an individual can do in daily life to reduce carbon emissions.
Low carbon footprint meal options were available throughout UO dining venues during Earth Week, marked by a green leaf. Dining Services plans to offer the event again next Earth Week and is considering showcasing low carbon footprint options continuously.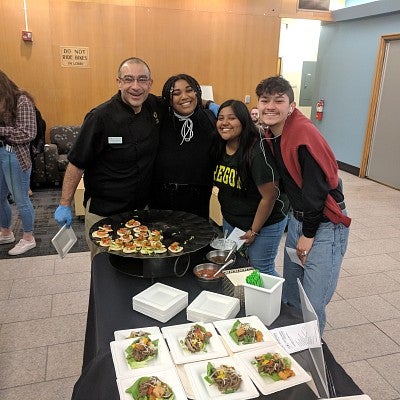 Curious about the research?