The Office of Sustainability developed the Green Office (GO) Certification program in 2012 to unite the numerous programs that support UO green office practices under a common framework. Over the past eight years, the GO program has recognized nearly 60 University of Oregon offices for their work to adopt best practices, commit to reducing environmental impacts, and measure their sustainability performance at the office operations level. The Office of Sustainability continues to adapt and grow the GO program each year in order to stimulate thinking and acting about greening and resiliency in the workplace.
The GO program tracks office sustainability across seven categories: prerequisites, energy, materials management, purchasing, transportation, events, and disaster preparedness. Offices can earn a bronze, silver, gold, or platinum level certification that is recognized for three years from the certification date.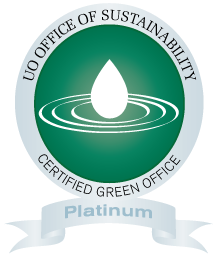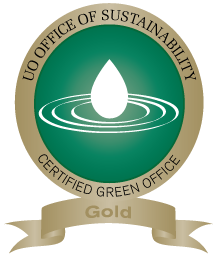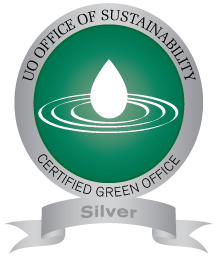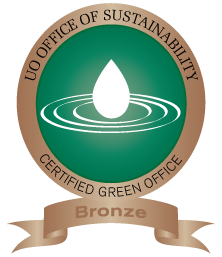 Typically, the Office of Sustainability recognizes the highest scoring office as that year's winner. However, given the challenges presented by the COVID-19 pandemic, we realize that several offices were unable to complete the program as they had hoped and that several others were limited in their capacity to adopt best practices. Therefore, this year we would like to recognize each of the offices that achieved certification, as well as those who participated in our fall orientation, but were unable to complete the certification requirements this year.  We are happy to announce that the following offices are on track to achieve Green Office Certifications for 2020:
American English Institute – Gold
Campus Design and Construction - Silver
Department of Anthropology - Gold
Division of Global Engagement - Silver
We commend these offices for their work to advance sustainability in their day to day operations and policies. Congratulations to all!